Cost: $2,000 before Jan 1, 2023 (Fully Paid) after it goes up to $2,300 on January 1, 2023
The final Payment is due by April 1 if the team has not taken advantage of the early registration discount.
Each Team will be dropped from the event on May 1 if not fully paid for the tournament.  No refund of any deposits if the team fails to complete the final payment.
Proof of insurance and rosters uploaded in the portal by May 1st.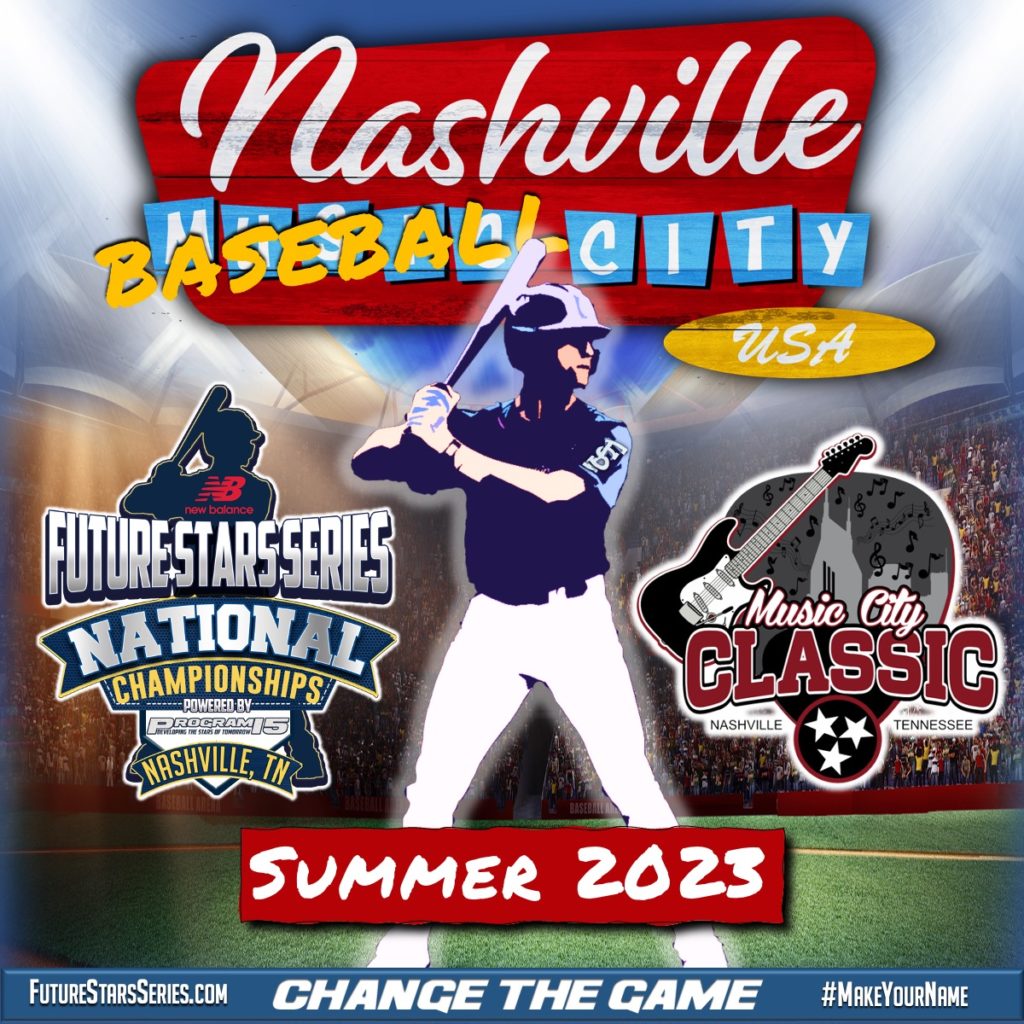 Hotel Link:  https://musiccitybb.com/hotels
A. Stay-to-Play Requirements:
Working in conjunction with the Music City Classic, we have secured hotels throughout the city. Rates may vary by hotel choice. The minimum number of required rooms for the week is 60 room nights per team. The room requirement comprises all players, coaches, and family members associated with the team. You may select more rooms in advance if desired. The link provided within this information is for each team's hotel accommodations and can be forwarded to parents to complete their hotel reservations. Please note that there will be a limited time to complete the hotel reservations. Failure to complete a hotel reservation as a part of this stay-to-play event will result in a cancellation of the team registration at that time and the deposit will not be refunded. Our goal is to be sure all groups and families have a seamless registration process, so please be diligent about your timeframes. Almost every hotel has a cancellation process with lead times and emergencies. 
**Hotel buyout is $400 *Price increase on Dec. 1 + $200.00
Teams must strictly follow hotel reservation timelines. Once registration has been opened for 2022, we will provide you with the timeframes for hotel reservations.
The Roster Deadline is May 31st for all events and rosters must be completed using League Apps.
The schedule will be out 2 weeks ahead of the event. We will alert you when this has been posted.
If the event is cancelled due to weather or act of God within 1 week of the start of the event, an 80% refund will be processed. If the event is cancelled due to weather or an act of God outside 1 week, a 90% refund will be processed. Once the event begins, no refunds will be processed.
Tournament Rules will be updated and sent to the coaches before each week.  They will also be briefly reviewed during the Coach's Meeting each week.
TOURNAMENT RULES – An updated copy will be provided to coaches prior to the event. 
BASEBALLS
Each team will receive 1 Dozen Baseballs for the weekend. Please pick up your Baseballs during the coaches' meeting
BATS
Wood Bat Only
NFHS rules
Run Rule-10 run rule after 5 innings
Time Limit–Time Limit is 2:15 and finishes the inning in all games except Championship. Ties will be allowed in Pool Play if the time limit has been reached. Tie Breaker will be used in all bracket-play games.
Home/Away- Coin flips for the home team before each Pool game. The high seed will be home in all bracket play games
Lineups– DH and One EH will be allowed (EH will be treated as a position when dealing with substitution) this is NOT a FREE SUB tournament.
*Each team must submit a lineup to the plate umpire
Pitch Limits- We will follow the MLB Pitch Smart guidelines (each team will be responsible for completing and signing a Pitch Count sheet for every game on your pitching staff (Pitch count sheets will be provided to you at your 1st game)
All Rules for this tournament will be provided to coaches via email. However, we can also provide you with a copy when requested.
Time Limits:
Ties will be allowed in Pool Play if the time limit has been reached.

Tie Breaker will be used in all bracket-play games. Bases loaded with 1 out to start the inning for each team. This will continue until a winner is determined. Starting from the last out that was made: The last hitter at 1B, 2nd last hitter at 2B, and 3rd last hitter at 3B.
Communication with Teams:
Meeting day 1 info and what they get in their packet:
Once we release schedules, teams know when and where their first game is. They will pick up their game balls and their event packet from the gate at the complex wherethey are playing their first game. The event packet will simply include their pitch count sheets for the weekend along with an extra copy of the tournament rules and any other information we may want to throw in there for them.
LOCATION: Charles Hawkins Field – 2600 Jess Neely Drive, Nashville, TN
Host sites include:
Vanderbilt University, Lipscomb University, Belmont University, Western Kentucky University, Trevecca Nazarene University, Cumberland University, Volunteer State Community College, and Columbia State Community College.