In what has been a terific bounceback year so far, Texas Rangers second baseman Marcus Semien sits at the top of the first MVP check of 2023, but it's an unyielding race with a lot of big-time candidates burning the back of Semien's cleats.
Semien's Texas Rangers lead the AL West, and the 32-year-old is atop the leaderboard in the junior circuit in every major category.
Semien enters play Thursday batting .299/.373/.498 with eight homers and a 140 wRC+. He's also third in the league in Defensive Runs Saved (8) and second in Outs Above Average (5) while playing a premium spot on the field.
Semien's first season with the Rangers didn't go as well. After exploding in Toronto in 2021, including 45 home runs, Semien settled back into good-not-great status a year ago when he batted .248/.304/.429 with 26 long balls and a 107 wRC+. If he played in a corner, 2022 would have been a rather ordinary season.
Semien's first 50 games of the season come at the right time for the Rangers, too. Corey Seager, their $325 million man, has played just 17 games. Still, the Texas lineup has produced more than six runs per game, No. 1 in baseball.
Semien, however, is not alone in Texas. Here are the MVP Power Rankings.
fWAR: 2.4 (1)
wRC+: 140 (13)
---
fWAR: 2.1 (3)
wRC+: 127 (23)
Franco's star is rising and with a healthy stretch is putting up the kind of numbers the Rays expected when they promoted and extended him prior to the 2022 season. There are no weaknesses in his game and he's just 22. Get used to this.
---
3. Matt Chapman, 3B — Toronto Blue Jays
fWAR: 2.1 (3)
wRC+: 150 (8)
Chapman not only is back, he's better than ever. The Platinum Glove third baseman has never hit better than .278 and hasn't been above .249 since his first full season in the majors in 2018, but he's hitting over .300 with power and OBP, and with the kind of defense he provides it's MVP worthy.
---
NEW: NL MVP Race
---
4. Aaron Judge, OF — New York Yankees
fWAR:2.1 (3)
wRC+: 181 (2)
Judge is ridiculous. He missed time on the IL, comes back and picks up right where he left off, which had been picking up where he left off a year ago. The reigning MVP has a legit chance to repeat — if he stays healthy. Judge is tied for the AL lead in homers despite having played in just 39 games thus far.
---
5. Shohei Ohtani, DH/RHP — Los Angeles Angels
fWAR (total): 2.2 (2)
wRC+: 138 (15)
Ohtani has not had the year he did in 2021 or 2022, but has still been worth the second-most fWAR in the American League this season. He's compiled 1.1 fWAR as both a hitter and pitcher, and his double-role value cannopt be properly quantified. He's been a top 15 hitter and pitcher in the AL, and appears to be an adjustment away from Cy Young caliber mound production.
---
fWAR: 2.1 (3)
wRC+: 169 (4)
Arozarena is running career-best walk and strikeout rates, but it's the barrels making the biggest difference. His 11 homers are powered by an astonishing 18% barrel rate and 50% hard-hit mark.
---
fWAR: 2.0 (8)
wRC+: 174 (3)
Alvarez keeps raking, and the Astros have needed since they are without Jose Altuve, and Alex Bregman has slumped the first two months. Hes not an asset in the field but is one of the true elite hitters in baseball and could win an MVP on his bat alone.
---
8. Yandy Diaz, IF — Tampa Bay Rays
wRC+: 2.1 (3)
wRC+: 188 (1)
Speaking of bat-only, that's pretty much Diaz, who has an uncanny abilit to make tons of contact (14.9% K rate), walk a lot (13.3%) and hit for power at the same time.
---
fWAR: 2.1 (3)
wRC+: 146 (9)
Mullins, an average or better centerfielder, is a solid power-speed player, and he's upped his walk game (11.8%) while cutting down on the swing-and-miss (16.3%, career best). Mullins is the key to an O's offense which ranks No. 4 in the AL in runs per game.
---
10. Bo Bichette, SS — Toronto Blue Jays
fWAR: 2.0 (8)
wRC+: 141 (12)
Bichette's season is a step up from his very good 2021 and 2021, with more contact and markedly better defense, which puts him here over others with similar or better offensive production to this point in the year.
Others: Nathan Eovaldi, RHP — TEX, Mike Trout, OF — LAA, Luis Robert, OF — CWS, Jonah Heim, C — TEX, Jarred Kelenic, OF — SEA, Adley Rutschman, C — BAL, Kevin Gausman, RHP — TOR, Adolis Garcia, OF — TEX, Anthony Rizzo, 1B — NYY, Sonny Gray, RHP — MIN.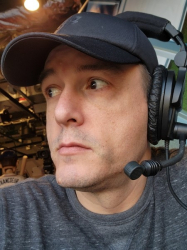 Latest posts by Jason A. Churchill
(see all)