Wildcard match-ups are set, and the playoffs begin tomorrow kicking off at 3 p.m. ET with the first game of a three game series at Tropicana Field, featuring the Rays vs Rangers. Following that game, the Toronto will face off against Minnesota at Target Field at 4:30 p.m. ET. The National league will consist between Arizona-Milwaukee (7 p.m. ET, American Family Field) and Miami-Philadelphia (8 p.m. ET, Citizens Bank Park).
Here, we'll preview each series and make a prediction about who comes out on top.
---
Rays vs. Rangers
Game 1: Tyler Glasnow vs TBD
Game 2: Zach Eflin vs TBD
Game 3 (if needed): TBD vs TBD
Why the Rangers win: They score a lot of runs. Luckily, the offense is hot. The Texas lineup glides into the playoffs with the sixth-best offense by fWAR (5.6) in the majors in the month of September. While everybody is looking at the Rangers offense, though, the bullpen has been a pleasant surprise the last two weeks of the season. Since September 15, they rank second in fWAR (1.5) in the majors with an overall 3.29 FIP, good for fourth in MLB during that time. If the offense can produce, and the bullpen can shut down the later innings, this team has a good shot to beat the Rays.
Why the Rays win: Judging by the last month of the season, the offensive advantage for the Rangers may not be all that much. The Rays were No. 8 in fWAR (5.3) in offense in September, and had a better team wRC+ in the last month (115) than the Rangers did (110). The rotation of Tyler Glasnow and Zach Eflin to start the series is extremely dangerous for Texas. Glasnow has earned a 2.45 FIP in his last six starts, and Efflin 2.66 in his last five. With Texas having such a shaky rotation, its hard to see how the Rays drop this series at home.
Prediction: Rays win, 2-1.
---
Blue Jays vs. Twins
Game 1: Pablo Lopez vs TBD
Game 2: Sonny Gray vs TBD
Game 3 (if needed): TBD vs TBD
Why the Blue Jays win: With the Blue Jays likely deploying a rotation of Kevin Gausman, Chris Bassitt and Jose Berrios, the rotation looks to be in good shape. Game one will be really important with Cy Young frontrunner Gausman on the mound, it is almost a must-win. The lineup has been slightly better than average since August 1 (105 wRC+), but Vlad Guerrero Jr. really ticked up in the month of September with a 133 wRC+. Toronto's bullpen has been good for a 3.80 ERA since August 1 and hopefully holding playoff leads isn't an issue in the 2023 playoffs for Toronto, as it was in 2022.
Why the Twins win: The Bullpen has looked great in September (3.40 ERA as a group). They don't have a true ace in their rotation, but Lopez has a 3.68 ERA in his last five starts with an even better 2.71 FIP. Sonny Gray since August 1 has been absolutely dominant. 2.03 ERA, 21.8 K-BB%, and batters are hitting just .270 on balls in play. Carlos Correa had an outstanding September at the plate slashing .296/.377/.436 and seems to be getting hot at the perfect time. Minnesota will need to get to Gausman in game one, but in his two starts against the Twins this year, Gausman holds a 6.30 ERA in 10.0 IP giving up seven earned runs and 11 hits.
Prediction: Blue Jays win, 2-1
---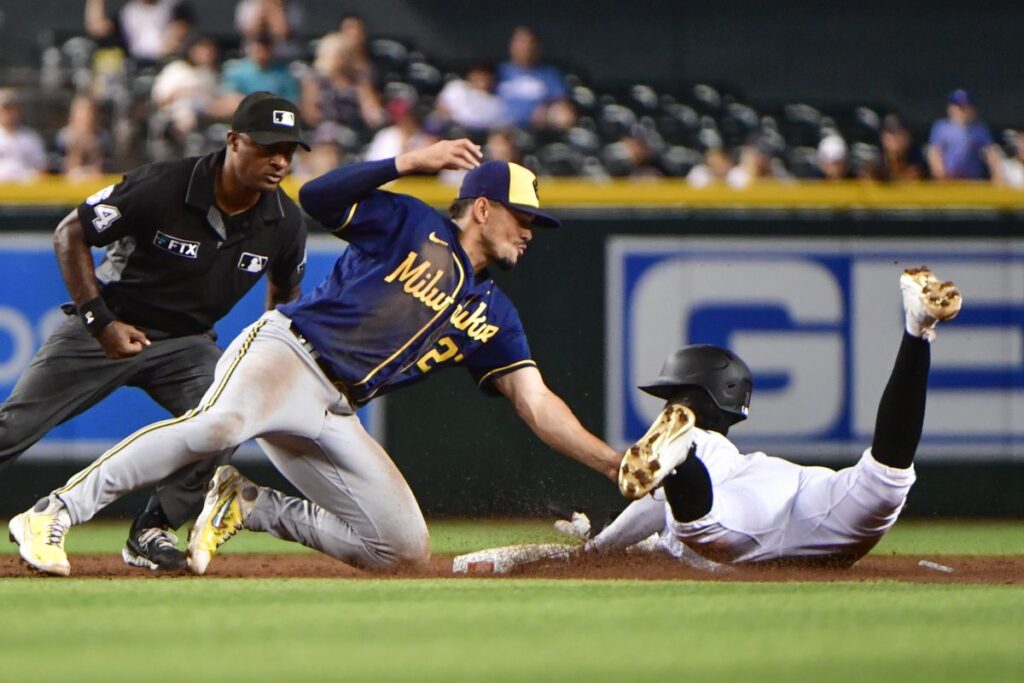 Brewers vs. Diamondbacks
Game 1: Brandon Pfaadt vs. Corbin Burnes
Game 2: TBD vs. TBD
Game 3 (if needed): TBD vs. TBD
Why the Brewers win: Despite Brandon Woodruff being out for the wildcard series, the likely rotation of Corbin Burnes & Freddy Peralta is a terrific 1-2 punch facing off against a lineup that had just an 85 wRC+ (No. 26 in MLB) in the final month of the season is an exemplary recipe for success. Score some runs and hand it over to a bullpen with a season-long 3.40 ERA. Anything but a series win would be a massive disappointment for Milwaukee.
Why the Diamondbacks win: If the offense comes alive and the Arizona can manage to turn a mid-game lead or two over to a bullpen that sports a 2.31 ERA in September, Arizona could steal this series. Corbin Carroll had a blistering September, slashing .311/.362/.453, but just two home runs. The Diamondbacks will likely need to find some power from somewhere in the lineup, they were No. 22 in MLB in home runs (166) in 2023. That would go a long way into putting a dent into the magnificent Brewers rotation.
Prediction: Brewers win, 2-0.
---
Phillies vs. Marlins
Game 1: Jesus Luzardo vs. Zack Wheeler
Game 2: Braxton Garrett vs. Aaron Nola
Game 3 (if needed): TBD vs. TBD
Why the Phillies win: This is an offense that strikes out a lot (26% in September) but hits a ton of home runs. Philadelphia was third in the majors with 48 home runs in September, and will likely need that to continue since the offense has just a 101 wRC+ in the same month. Luckily for them, Luzardo (1.51 HR/9 in last 10 starts) has been particularly home run prone recently. The bullpen has been outstanding all year, with a 3.56 ERA as a group and even better (3.17 ERA) since August 1. Look for the Phillies to get a couple decent leads to their bullpen and cruise.
Why the Marlins win: Braxton Garrett has been fantastic in his last 10 starts (2.85 ERA), the offense has been above average in the month of September (105 wRC+) and Jazz Chisholm found his rhythm in his last 104 plate appearances, sporting a 117 wRC+ with five home runs. The Marlins will need that rate of offense to continue. The bullpen has a cumulative 4.65 ERA since July 1 and they'll need to overcome Luzardo giving up some runs if he's anything like he has been in September (4.70 ERA).
Prediction: Phillies win, 2-1
Latest posts by Casey Bellon
(see all)